Mixed Greens & Goat Cheese w/ Raspberry Vinaigrette
This is a good, simple salad... very fresh and summery with the raspberries and goat cheese.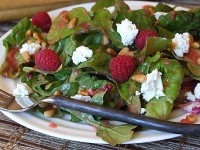 Ingredients:
1 cup fresh raspberries, divided
1/2 cup olive oil
3 Tablespoons raspberry vinegar or white wine vinegar
1 medium shallot, chopped
1 teaspoon honey
5 ounce bag mixed baby greens with arugula
2 cups small watercress sprigs
1/2 cup pine nuts, toasted
1 cup crumbled soft fresh goat cheese (about 4 ounces)
Directions:
1. Puree 1/2 cup raspberries, oil, vinegar, shallot, and honey in blender. Season dressing to taste with salt and pepper.
2. Combine remaining 1/2 cup raspberries, greens, watercress, and pine nuts in a large bowl. Toss with enough dressing to coat. Divide salad among plates. Sprinkle with goat cheese. Serve, passing remaining dressing separately.