Yield: 1 1/2 cups
Prep Time: 20 minutes + chill time
Lemon Chive Cheese Dip
The lemony flavor in this dip makes it perfect for summer. Serve it up with some crisp, fresh seasonal vegetables.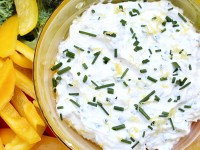 Ingredients:
4 ounces cream cheese, softened
1/2 cup ricotta cheese
1/2 cup sour cream
1/2 cup finely snipped fresh chives
1 tablespoon finely shredded lemon zest
1/4 teaspoon kosher salt or sea salt
1/4 teaspoon freshly ground black pepper
lemon zest and/or fresh chives (optional)
crackers and/or vegetable dippers
Directions:
In a medium mixing bowl beat cream cheese with an electric mixer on medium speed until smooth. Beat in ricotta cheese and sour cream just until combined. Stir in chives, lemon zest, salt and pepper. Cover and chill for 4 to 24 hours.
When ready to serve, sprinkle with lemon zest and/or fresh chives. Serve with crackers, pita chips and/or vegetables.