Yield: 12 servings (1/2 cup per serving)
Prep Time: 30 minutes + soak time
Cook Time: 3 hours, 15 minutes
Vermont Baked Beans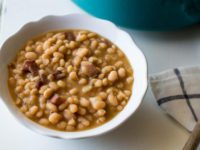 Ingredients:
1 pound dried navy beans (about 2 cups)
cooking spray
1 1/2 cups chopped yellow onion
1/2 cup diced bacon or salt pork (about 4 ounces)
5 1/2 cups water
3/4 cup maple syrup, divided
1 1/2 Tablespoons Dijon mustard
1 teaspoon salt
1/4 teaspoon Tabasco sauce
Directions:
Sort and wash beans; place in a large bowl. Cover with water to 2 inches above beans; cover and let stand 8 hours or overnight. Drain beans.
Preheat oven to 325°F.
Heat a Dutch oven over medium-high heat. Coat pan with cooking spray. Add onion and bacon to pan; sauté 5 minutes. Add beans, 5 1/2 cups water, 1/2 cup syrup, mustard, salt, and Tabasco; bring to a boil.
Cover, remove from stove and place into the oven. Bake for 2 1/2 hours or until beans are tender, stirring occasionally. Uncover and bake an additional 30 minutes or until mixture begins to thicken. Stir in remaining 1/4 cup of syrup; serve.
Nutrition Facts- Amount Per Serving of 1/2 cup: Calories 233, Calories From Fat (19%) 45, Total Fat 5g, Sat Fat 1.47g, Cholesterol 6.43mg, Sodium 303.08mg, Potassium 540.04mg, Carbohydrates 38.67g, Dietary Fiber 9.5g, Sugar 14.30g, Net Carbs 29g, Protein 10g
Weight Watchers POINTS : SmartPoints:  Points Plus: 6 Old Points Program: 6