Blackened Steak Salad
Another great main dish recipe with Weight Watcher's points: Blackened Steak Salad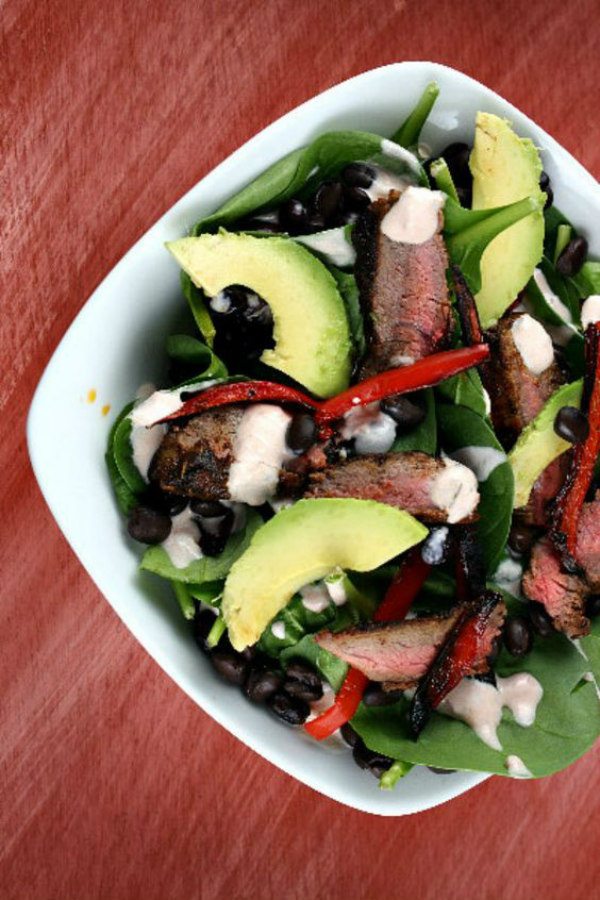 Yield: 4 servings
Prep Time: 15 minutes
Cook Time: 15 minutes
Blackened Steak Salad
I've always loved steak in salad. It turns it into a main dish for me...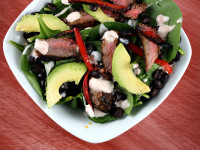 Ingredients:
3/4 pound top sirloin steak (about 1-inch thick), fat trimmed
1 Tablespoon Cajun seasoning
1/2 cup salsa
1/2 cup nonfat sour cream
2 Tablespoons freshly squeezed lime juice
3/4 pound (12 ounces) pre-washed spinach leaves
One 15-ounce can black beans, rinsed & drained
One 7.25-ounce jar roasted red peppers, drained & cut into thin strips
pepper to taste
sliced avocado, optional
Directions:
Pat steak with Cajun seasoning to coat both sides evenly. Heat a 10 to 12-inch frying pan over medium-high heat. When pan is very hot, add steak. Cook, turning occasionally, until meat is well browned on the outside and done to your liking, about 14 minutes for medium-rare.
Meanwhile, whirl salsa, sour cream and lime juice in a blender or food processor until smooth. Arrange the spinach, beans, and peppers decoratively in a large serving bowl.
When meat is done, cut it into bite-size slices; add to salad. At the table, mix salad thoroughly with dressing. Add pepper to taste.
SOURCE:
RecipeGirl.com (via
Sunset
)